FSP UNVEILS THE NEW HYDRO PTM X PRO SERIES POWER SUPPLIES
2022-07-27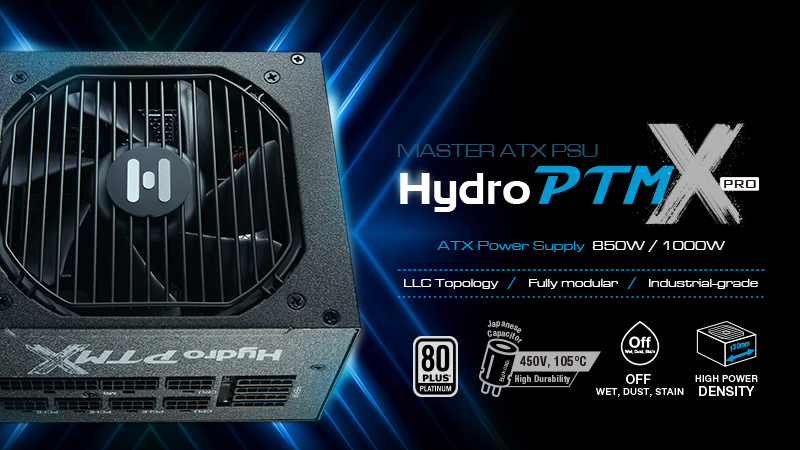 EXPERIENCE SUPERIOR PERFORMANCE IN A COMPACTPACKAGE
July 27th 2022, Taipei, Taiwan - FSP Group, the leading manufacturer of high-performance powersupplies today, announces the brand new HYDRO PTM X PRO series powersupplies.
Small, powerful, and stylish, FSP's new HYDRO PTM X PRO series power supplies bring unparalleled versatility with an all-new, revolutionary design built into a robust 130mm chassis. Highly compatible with any mid-tower PC case, the unique short footprint of the new HYDRO PTM X PRO power supplies far exceeds the performance of a regular power supply with a superior power density in comparison to a regular 190mm PSU. Furthermore, they come painted with an industrial-grade conformal coating that protects the power supply in harsh conditions, such as dust, stain,and humid work environments.
80 Plus® Platinum-certified, the latest HYDRO PTM X PRO seriespower supplies are fully modular, delivering up to 1000W with low noise and high-efficiency power across all connected components. Carrying FSP's game-changing Eco semi-fanless fan control switch, these new power supply units are the best choice for users looking for a noise-free system unit.
Available for users in 850W, and 1000W units, the HYDRO PTM X PRO series power supplies are highly suitable for gamers and content creators who request superior performance and outstanding durability.
Built to perform exceptionally well under high-demand work loads the HYDRO PTM X PRO series power supplies utilize superior Japanese capacitor, including bulk capacitors designed to with stand up to 450V, 105°C and avoid the infamous capacitor leakage problem. Additionally, 3.3V & 5V DC-DC module design improves the reliability and enables high component compatibility with low ripple noise that effectively reduces interference of system components, prolonging hardware lifespan.
Showcasing FSP's superior engineering capability, these new power supplies carry cutting-edge technologies like the LLC half-bridge topology that allows zero voltage switching of the main switches, lowering switching losses and boosting system efficiency drastically.
Furthermore, a single +12V rail power output design enables efficient power delivery to modern graphic cards ensuring outstanding performance and stability.
To conclude, FSP's new HYDRO PTM X PRO series power supplies arethe best choice for gamers and content creators who look to build high-performance systems in a compact mid tower case. They deliver outstanding performance, unrivaled stability, and lifelong durability.
Product Information

1000W: https://www.fsplifestyle.com/en/product/HydroPTMXPRO1000W.html

850W: https://www.fsplifestyle.com/en/product/HydroPTMXPRO850W.html



For more product information, please visit:
FSP Group's official website at: www.fsp-group.com
FSP Group Brand Product website at: www.FSPLifestyle.com
Instagram: https://www.instagram.com/fspglobalfan/
Facebook: www.facebook.com/FSP.global
LinkedIn: www.linkedin.com/company/1842554
About FSP
Founded in 1993, FSP is one of the leading suppliers of power supply products inthe world. FSP Group (3015: Taiwan) meets various user demands in power supplies with its' 400-person strong R&D team, robust production capacity, and comprehensive production lines. FSP offers more than 500 models certified with the 80 PLUS standards and is the leader in 80 PLUS certifications. FSP enables users to enjoy eco-friendly technologies by providing environment friendly, high quality, power supply products to business and consumers. Learn more about FSP Group: www.fsp-group.com