FSP Unveils FlexGURU 250W and 300W Modular Power Supplies
2019-08-22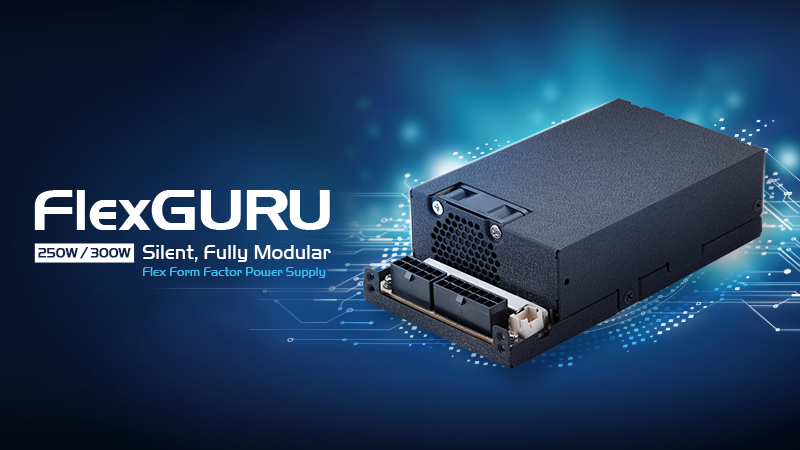 July 30, 2019 – Taipei, Taiwan – FSP, one of the world's leading power supply manufacturers, is pleased to announce the addition of the FlexGURU series. This series of compact, modular, quiet and efficient power supplies is designed for roles such as IPC (Industrial PC), HTPC (Home Theater Personal Computer), Edge Computing, and NAS (Network Attached Storage) and NAS Servers. The FlexGURU series includes 250W and 300W models. These slim but powerful PSUs – just 150 x 40.5 x 81.5mm – offer 20 percent higher power density than other typical Flex ATX power supplies. FlexGURU can fulfill VAR (Value Added Reseller) demands involving small quantity requirements from edge computers. This reduced the need to purchase large amounts of customized PSUs and keep stock waiting to be sold.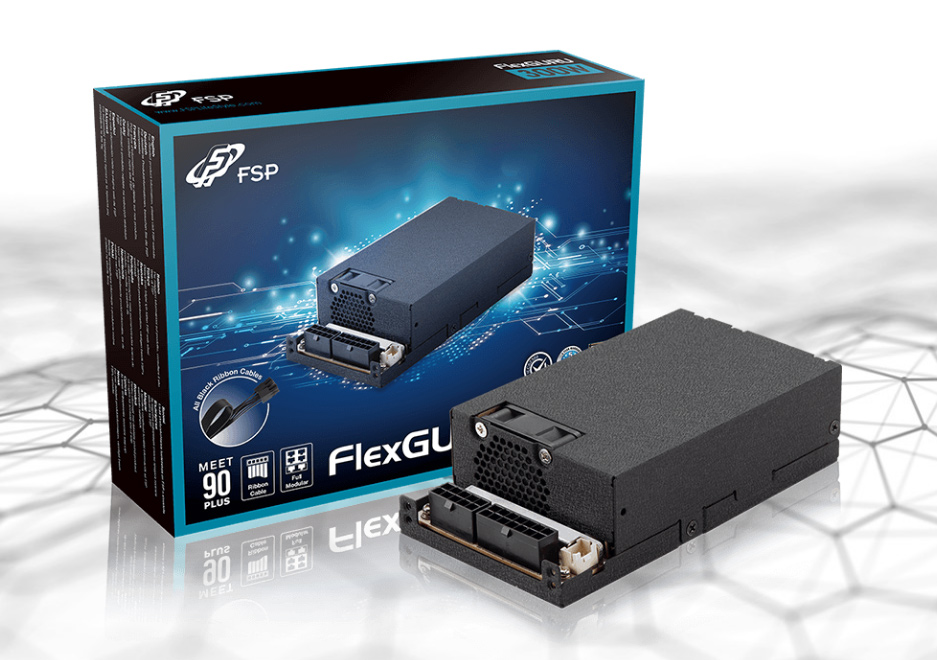 Modular PSU design
FSP's FlexGURU Flex ATX's modular design with slim ribbon cables allows for easier set up, reducing cable clutter and improves airflow efficiency. Users only need to install the minimum number of cables required for their own system.
Modular connectors allow users to quickly move cables, isolate and fix power supply problems, and reduce debugging time if the system experiences issues. If the power supply needs to be changed, then users only have to replace the power supply itself, rather than having to disconnect every cable from the PC.
Modular connectors allow users to efficiently move cables, and reduce debugging time for a better experience. This also gives users the flexibility to replace the PSU without the hassle of disconnecting every cable from the PC.
FSP has created a universal bracket that fits into two different orientations for quick installation for into any chassis. The mounting holes and auxiliary bracket are designed to ensure the FlexGURU series is compatible with 99 percent of Flex-ATX PC chassis on the market.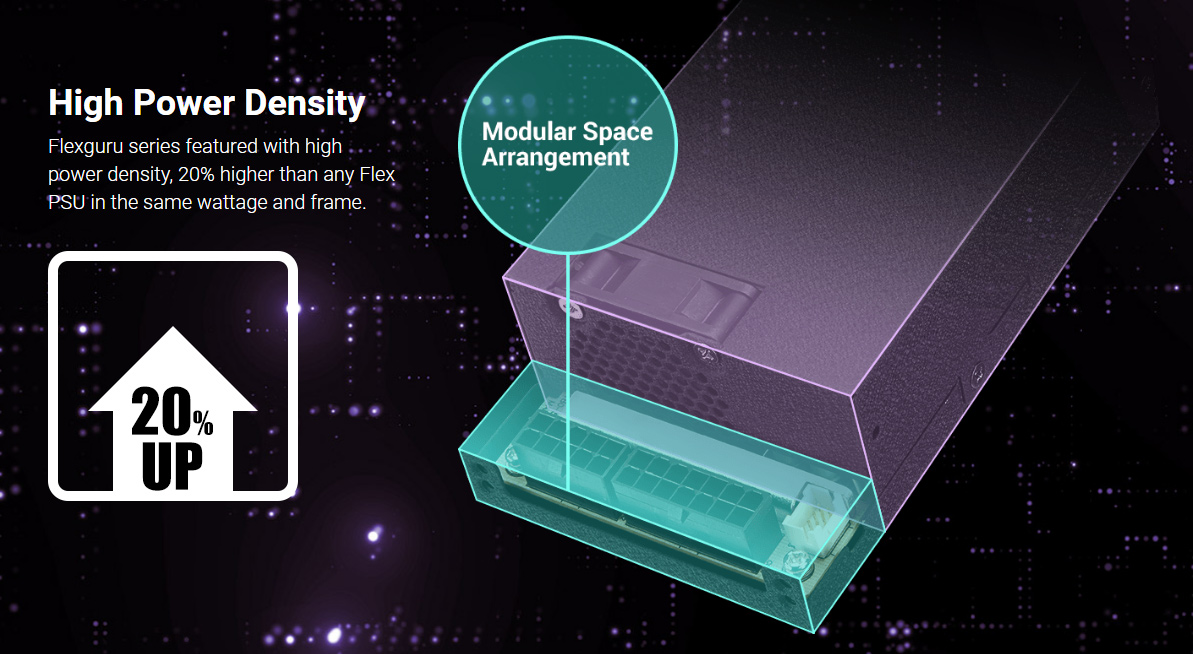 Safe, quiet and efficient
FlexGURU offers excellent thermal performance with efficient airflow design to prolong fan life, protect system performance, and help with noise reduction. These PSUs comply with UL/EN/IEC 62368-1 and 60950 international safety standards.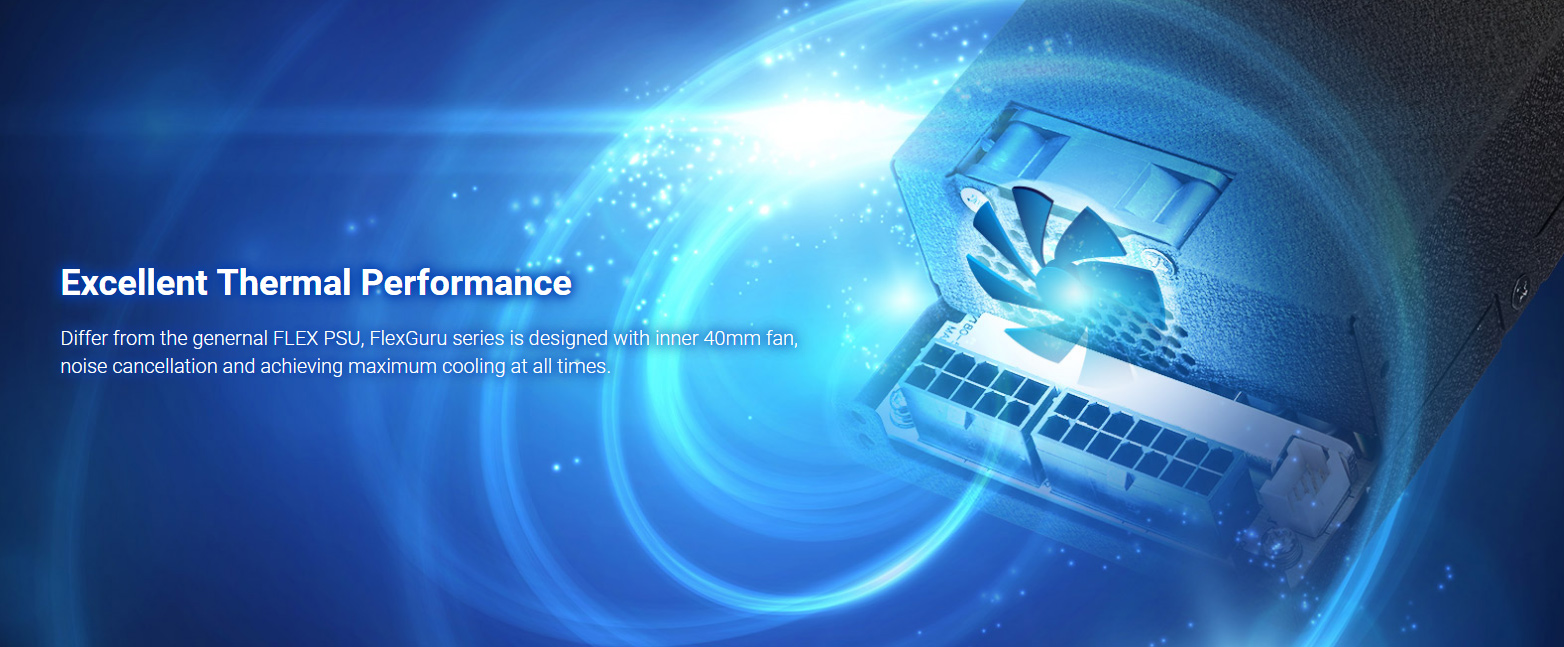 Product Highlights of the FlexGURU series:
•Compliant with the latest Flex ATX V1.22 specification
•300W: Efficiency - Efficient ≧ 90% at typical load
•250W: Efficiency Efficient ≧ 85% at typical load
•Compliant with UL/EN/IEC 62368-1 and 60950 international safety standards compliant
•Intelligent fan speed control
•Quiet and long-lasting 40mm ball bearing fan
•Flat ribbon cable format
•Powerful single +12V rail design
•Japanese electrolytic capacitors
•Ready for newest Intel CPUs - Compatible with the latest Intel CPUs
•Full protection: OCP, OVP, SCP, OPP, and OTP