FSP Launched the 80 Plus Gold All-Modular PSU "Hydro GE"
2017-12-04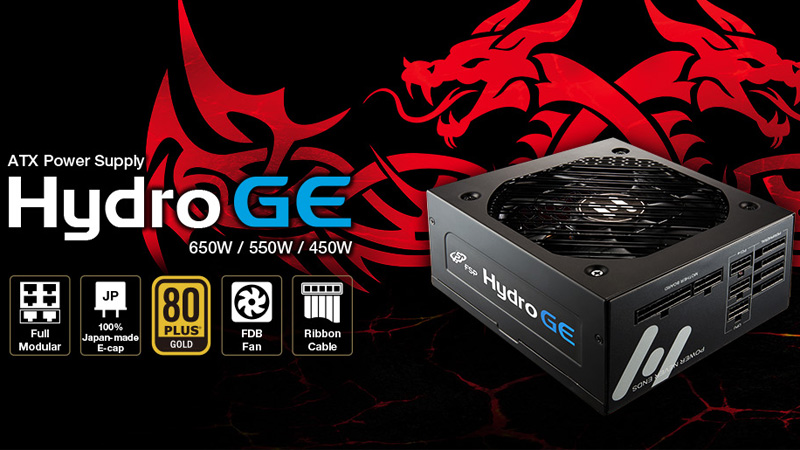 【Taipei, Taiwan – Dec.5th, 2017】 FSP Group, one of the renowned PSU brands in Taiwan, has launched the next-generation 80 Plus Gold All-Modular Series "Hydro GE", which is available in 450W, 550W, and 650W models. Hydro GE follows the droplet-shaped thermal design of the Hydro G Series, featuring a 135mm FDB hydraulic bearing fan. Its internal part layout allows excellent heat dissipation from inside to outside, while its +12V single-rail large-current design enables supplying the maximum power to your graphics card. With its DC-DC circuit structure and all Japanese-made electrolytic capacitors, it ensures more stability and eliminates lag during your gameplay. "Hydro GE" comes with a personalized side sticker available for the PC DIY enthusiasts to create their own "Unique" style.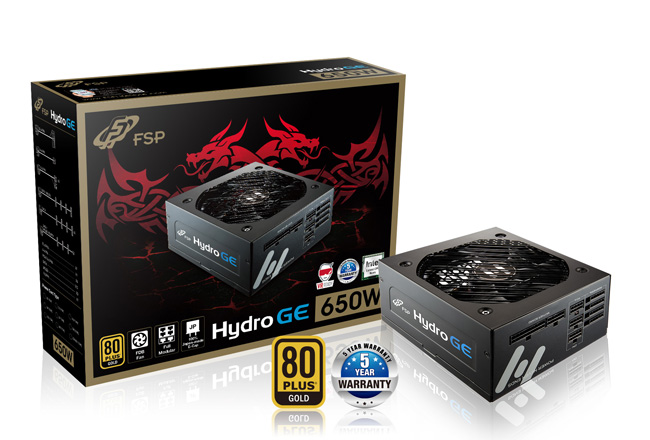 DC-DC structure with all Japanese-made components for the most stable supply of power
The thoughtful circuit design and materials used aim at gamers who care about high power stability and compatibility.
The +3.3 and +5V Synchronous Rectification DC-DC circuit design features zero loss during conversion, which not only leads to higher efficiency, but also optimizes the current regulation to significantly improve the power output stability and compatibility. The All models of the Series only use the Japanese-made industrial-grade electrolytic capacitors which can withstand high temperature and pressure for stable part quality and long product life.
Unique 12V thermal layout and all-modular black flat cable design which effectively reduces the operational temperature
Good thermal design is critical to the life of electronic products. The 12V line operation block of the power supply has a relatively hot temperature. The unique thermal design of the 12V line, together with the insulation pad attached to the bottom of the housing, effectively transfers heat energy to lower the inner temperature for optimal thermal control. In addition, the all-modular design allows you to select your desired cables, while the black flat cables are flexible enough to facilitate routing of cables, which optimizes the results by reducing space interference.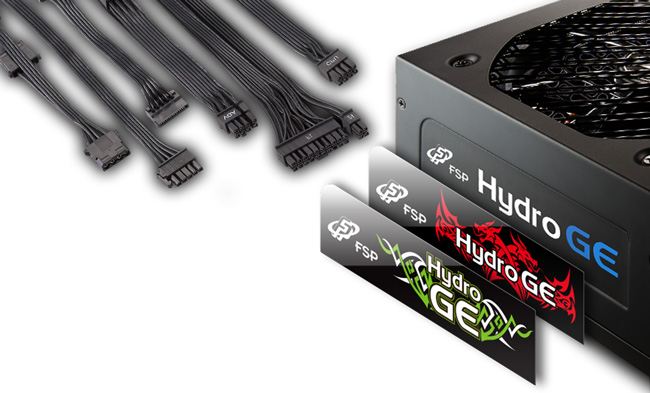 New version of the side sticker for Hydro GE allows you to create your own unique style
Three kinds of side stickers allow the gamer to select from among the standard factory blue side sticker, NVIDIA-style green side sticker, or AMD-style red side sticker, based on the his/her PC motherboard, graphics card, and other components. Gamers can build their own unique and charming PC based on the color theme.
Various safety protection mechanisms guarantee that you can dedicate yourself to your favorite games with peace of mind
The entire "Hydro GE Series" has an excellent safe circuit design, including six safe circuit protections, OVP, OCP, SCP, OPP, OTP, and UVP, which guarantees that you can dedicate yourself to your favorite games. The entire "Hydro GE Series" is backed by a 5-year warranty and 2-year rapid replacement. It is the newly and best choice for gamers who want a highly efficient and stable 80 Plus Gold PSU!