FSP Announces Twins PRO Series PSU in 500W / 700W / 900W Power Supply Options
2021-03-17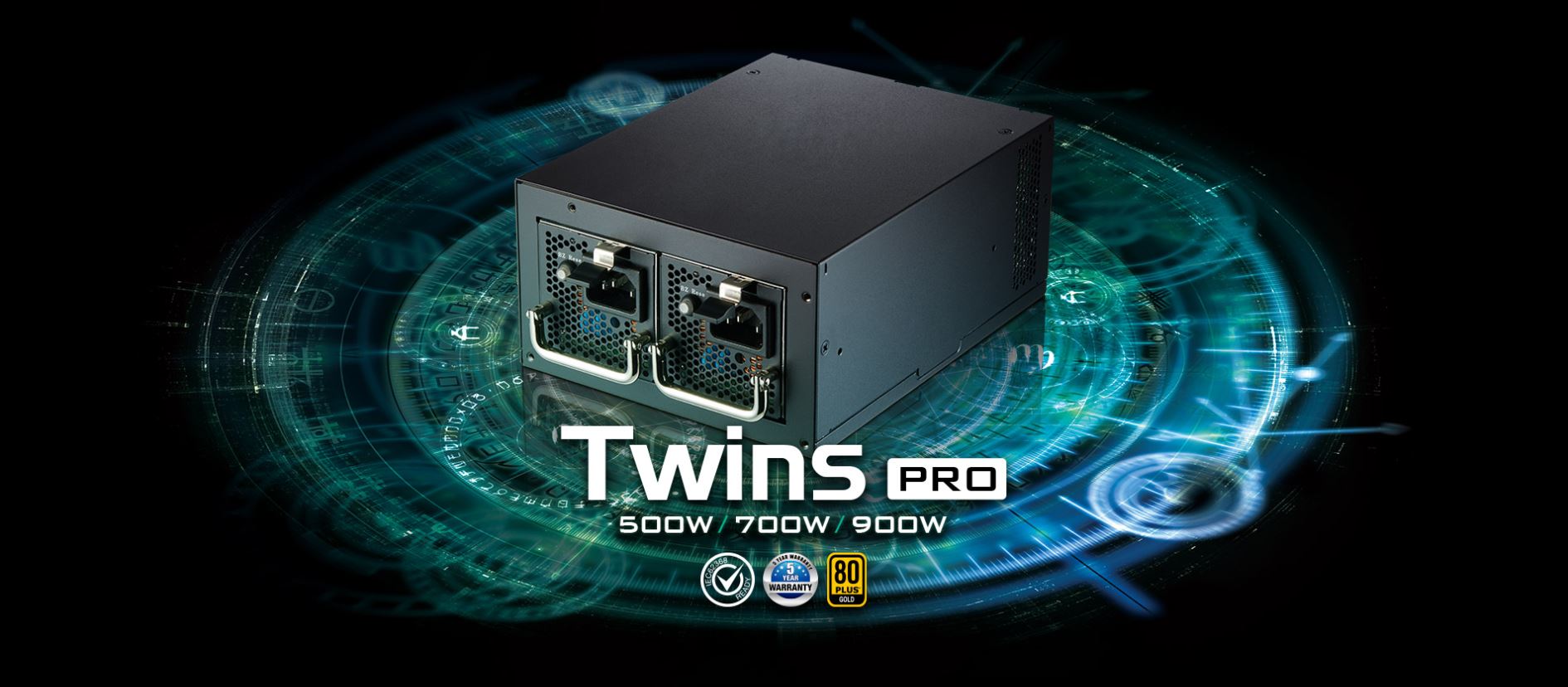 The Twins PRO Series is designed for the standard ATX or PS2 chassis and is an ideal power supply for home cloud server systems or SMEs' web/mail server systems

Taoyuan, Taiwan, March 17, 2021 - FSP, the world's leading power supply manufacturer, has announced the launch of its new Twins PRO Series power supply. It is available in three different wattages : 500W, 700W, and 900W. The Twins PRO is a redundant power supply mainly designed for the standard ATX or PS2 chassis. The Twins PRO Series does not require a front-end bracket, which makes it an ideal power supply for home cloud server systems or web/mail server systems, and for small to medium-sized enterprises (SMEs).
Stable Power Supply with Complete Protection
Thanks to the over current protection, short circuit protection, over voltage protection,and fan failure protection, the Twins PRO Series PSU maintains stable power at all times. The Twins PRO Series' two modules share the load for optimum efficiency during normal operation. This means users do not need to worry about their servers orPCs unexpectedly powering off. If one module fails, the second functioning module will take the additional load immediately to guarantee system stability.
Built-in Hot Swappable Modules
The Twins PRO Series PSU features built-in hot swappable modules for quick and easy replacement of defective components without the need to power off any systems or devices.
No Interruptions with Power Cord Locking Device
The Twins PRO Series PSU features a power cord locking device which secures the power cord in place, saving it from any accidental disconnections.This helps to ensure a stable operation without any system interruptions.
FSP Guardian Software
The Twins PRO is bundled with the FSP Guardian desktop monitoring and control software.When the Twins PRO series PSU is connected, via USB, to a motherboard USB header, it utilizes the FSP Guardian software to monitor power input, power output, efficiency, and other internal records in real time as well as obtain historical data within 30 days. Additionally, once the power input or output reaches above a recommended level, the FSP Guardian will immediately display warning information to alert users of the Twins PRO PSU's current status.
Modular Design with Ribbon Cables
Other product features of The Twins PRO include an alarm guard design and a smart power supply status LED indicator, flat ribbon cables (ideal for applications with space constraint issues), and a compliance with ATX 12V and EPS 12V standards as well as IEC 62368.
Price and Availability
The Twins PRO Series is now available globally with an MSRP of $429.99 USD for 500W, $549.99 USD for 700W, and $649.99 USD for 900W.
More information about
FSP Twins PRO Power Supply in 500W
FSP Twins PRO Power Supply in 700W
FSP Twins PRO Power Supply in 900W
Video for FSP Twins PRO Series https://www.youtube.com/watch?v=zwGrkymI-lM
For more product information, please visit:
FSPGroup's official website at www.fsp-group.com
FSP Group Brand Product website at www.FSPLifestyle.com
FSP Blog : blog.fsp-group.com
Facebook: www.facebook.com/FSP.global
LinkedIn: www.linkedin.com/company/1842554