FSP Releases Slim 330W High Wattage Fanless External Power Supply
2019-05-21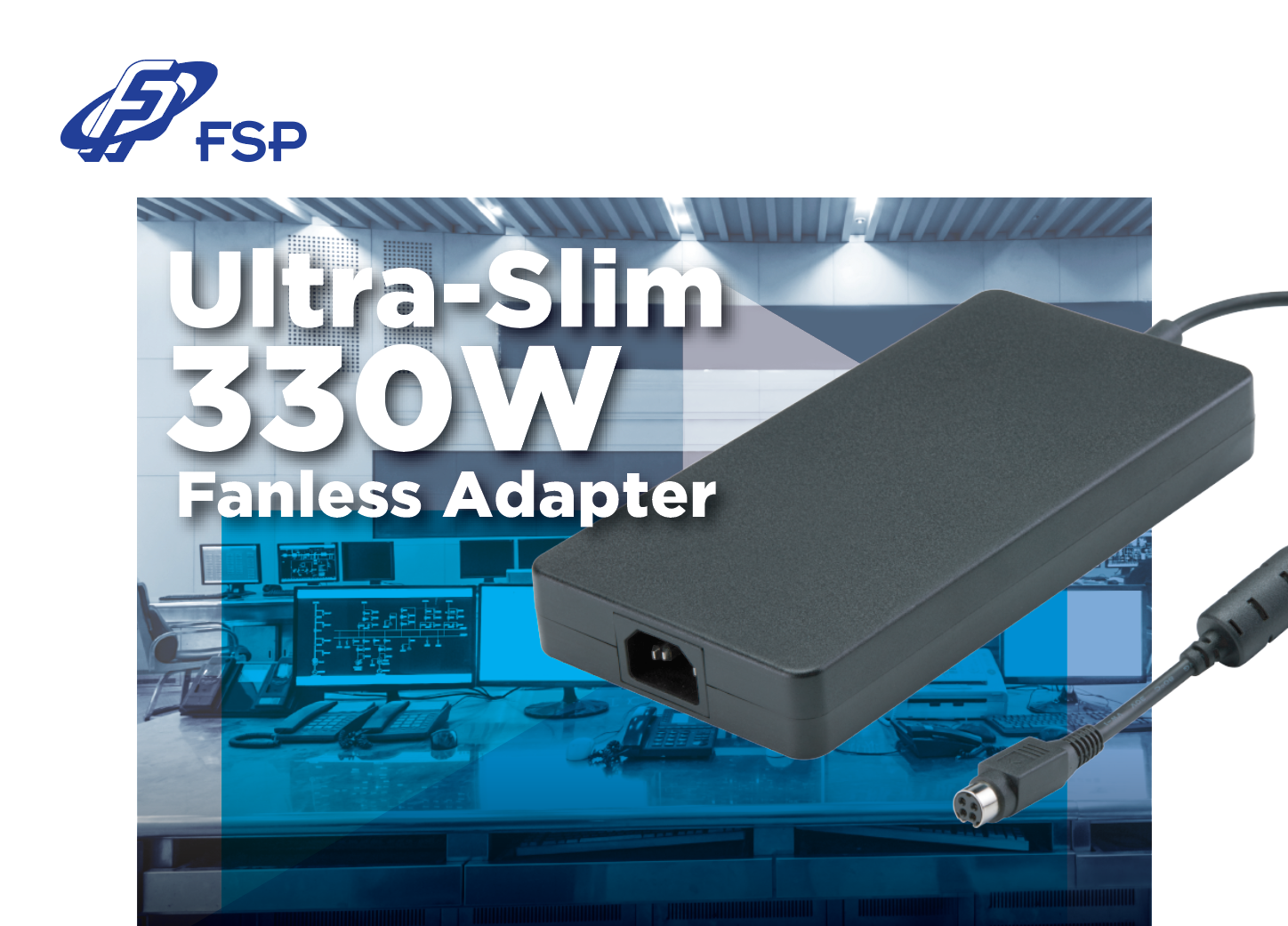 【Taipei, May 20th, 2019】Due to the increasing demands of equipment in the AIoT field, such as industrial application systems, visual computing, embedded systems, charging systems, and human-machine interactive systems, the market is continually seeking power supplies with the best specifications. The need for high-wattage external power supplies is also increasing every day due to considerations such as high stability, high efficiency, fan-less design, low noise, ease of replacement, convenient maintenance, and much more.
FSP Group has been at the heart of the power supply field for almost 30 years, and has accumulated knowledge and expertise for the development of different power supplies in different industries. Our external power supply product lines carry the most complete range of wattage, and we provide different specifications such as wall-plug, desktop, slim, and USB PD to meet different industry needs.
In order to satisfy the equipment requirements for the AIoT field, FSP has broken through the R&D bottleneck and released a slim 330W high wattage fan-less external power supply. This slim design model has a height of only 27mm and allows users to save equipment space. Enclosure design reduces noise and is dust-proof. This series of products has already met the newest IEC 62368-1 safety specifications and is able to satisfy the safety requirements of audio, video, information, and communication technology equipment. FSP has always been committed to providing the newest products to best meet customer needs.
Product Features:
Input Voltage : AC 100-240V
OCP/ OTP / OVP
Certified IEC 62368-1 & IEC 60950-1
Meet Code of Conduct Version 5 Tier 2
For more FSP product information, please visit:
Official website: www.fsp-group.com
FSP-branded products website: www.FSPLifestyle.com
Blog: blog.fsp-group.com
Facebook: www.facebook.com/FSP.global
LinkedIn: www.linkedin.com/company/1842554
YouTube: www.youtube.com/user/PowerNeverEnds
About FSP
FSP (3015) was founded in 1993 and is ranked as one of the world's leading power supply manufacturers. With more than 400 professionals on its R&D tech team, and a production capacity that complements a complete product line, FSP is well positioned to solve the various power supply needs of consumers. We have more than 460 models with 80 PLUS certification. Among all manufacturers, we are the world's top holder of 80 PLUS certifications. Our best-in-class environmentally friendly and high-quality power products offer consumers a means to enjoy technology while minimizing the impact on the environment.