Introducing the FSP QC 3.0 6-Port Charger — Amport 62
2017-05-11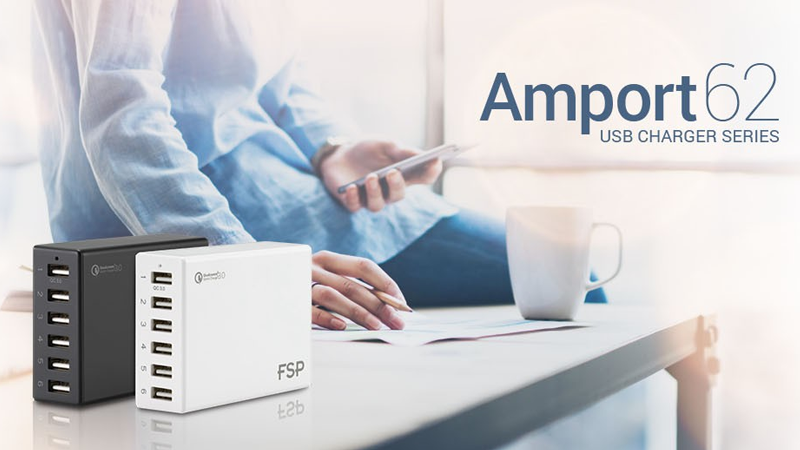 【May 11, Taipei, Taiwan】 World-renowned power supply vendor, FSP, has released the Qualcomm® Quick Charge™ 3.0 (QC 3.0) fast-charging Amport 62. Currently the fastest-charging solution on the market, the Amport 62 is more than three times faster than regular chargers. In as little as 35 minutes, 80% of the battery capacity is reached. In addition, 6 USB ports are available to meet the need for simultaneous charging. The charger is also compatible with smartphones, iPhones, iPods, power banks, and other mobile devices. It offers the best solution for multiple mobile devices. There's now no need to take up power outlets or own extra chargers!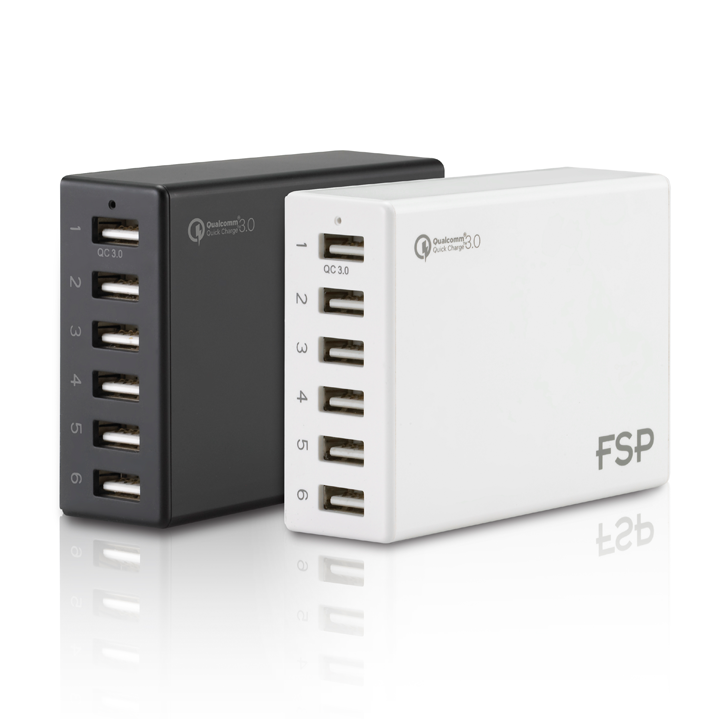 Super Fast! Charge Time is Three Times Faster
Enjoying the best moments in a romantic drama and then the power cuts out? Frustrated with the charge time and can't send messages on Line? Plug in the Amport 62 charger and enjoy 80% power in just 35 minutes (quick charge available in QC 3.0 compatible mobile devices). The QC 3.0 solution enables charging that is more than three times faster and reduces significant waiting time.
Super Fun! Compatible with All Phones and Tablets
Always in need of multiple devices? Make the right choice with the Amport 62. Share the joy of charging 6 mobile devices simultaneously with family and friends. At home or at the office, charging has never been so easy!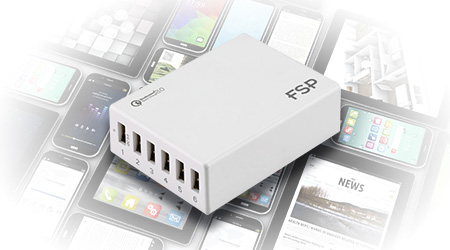 Super Convenient! Best Travel Companion
Not enough power outlets in the hotel? Tired of packing so many chargers on every trip? The Amport 62 USB charger is your trusty travel companion. Light and user-friendly, it's compatible with AC 110v-240v voltages globally. Several USB devices can be connected to just one power outlet to satisfy all your power consumption needs.
Super Safe! Strong Protection Mechanism
FSP products are carefully designed to protect against over current, temperature, voltage, as well as short circuits. For its product standards, FSP has obtained the
various countries certification, Metrology and Inspection as well as the Qualcomm® certification for its Quick Charge™ 3.0 chips.