Patented technology gets maximum performance from AMD Ryzen and Intel Core i3, i5 and i7
2017-04-26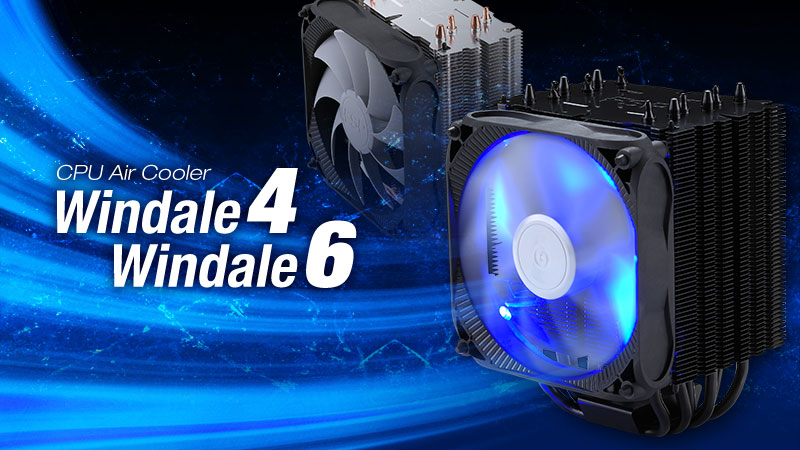 Patented technology gets maximum performance from AMD Ryzen and Intel Core i3, i5 and i7
【April 26, Taipei, Taiwan】 Global power and cooling specialist, FSP, is pleased to announce the new Windale series of supremely effective, ultra-quiet, heat pipe equipped fan-cooled PC heatsinks. The Windale 6 (AC601) and Windale 4 (AC401) bring a combination of extreme cooling performance with very low noise and vibration to a huge range of Intel and AMD CPUs – including the newest Core i7 and Ryzen processors. These new PC coolers are ideal for gamers, performance enthusiasts, and overclockers, as well as for general users who need quiet, reliable cooling and long CPU life.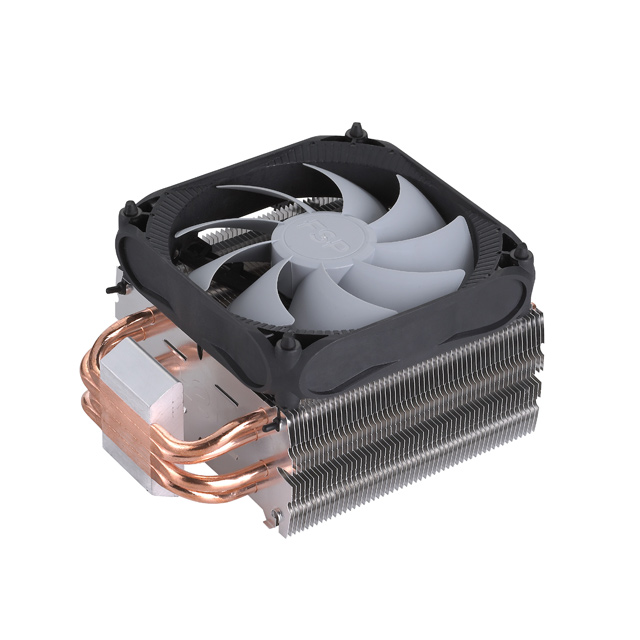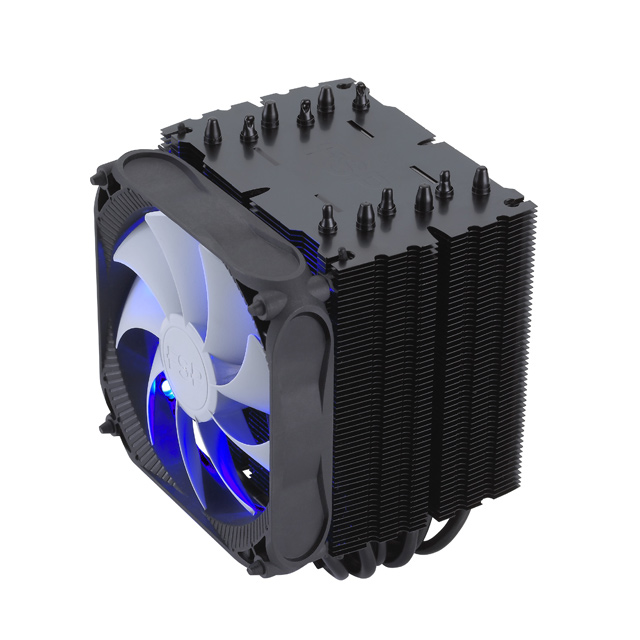 FSP patented technology for ultimate cooling performance
Both the Windale 4 and Windale 6 feature CPU direct contact technology to remove heat from the CPU with maximum efficiency, protecting the valuable CPU and extending its lifespan. As their names suggest, the Windale coolers feature four and six heat pipes respectively, to spread that heat through the cooling fins. These louver fins are assembled with a patented solder-less technique which ensures unhindered heat transfer, unlike traditional soldered fins. Finally, the large, quiet 120mm cooling fan drives up to 60 cubic feet per minute (CFM) of air through the fins to dissipate the heat and keep the CPU running safely at optimum speed.

These advanced design and manufacturing features allow the Windale 4 to achieve a thermal design power (TDP) of 180W and thermal resistance of 0.11° C/W, while the larger Windale 6 reaches a TDP of 240W TDP and brings thermal resistance down to only 0.09° C/W in the most demanding scenarios. This allows the Windale series to keep CPU temperatures well below those provided by competing CPU coolers.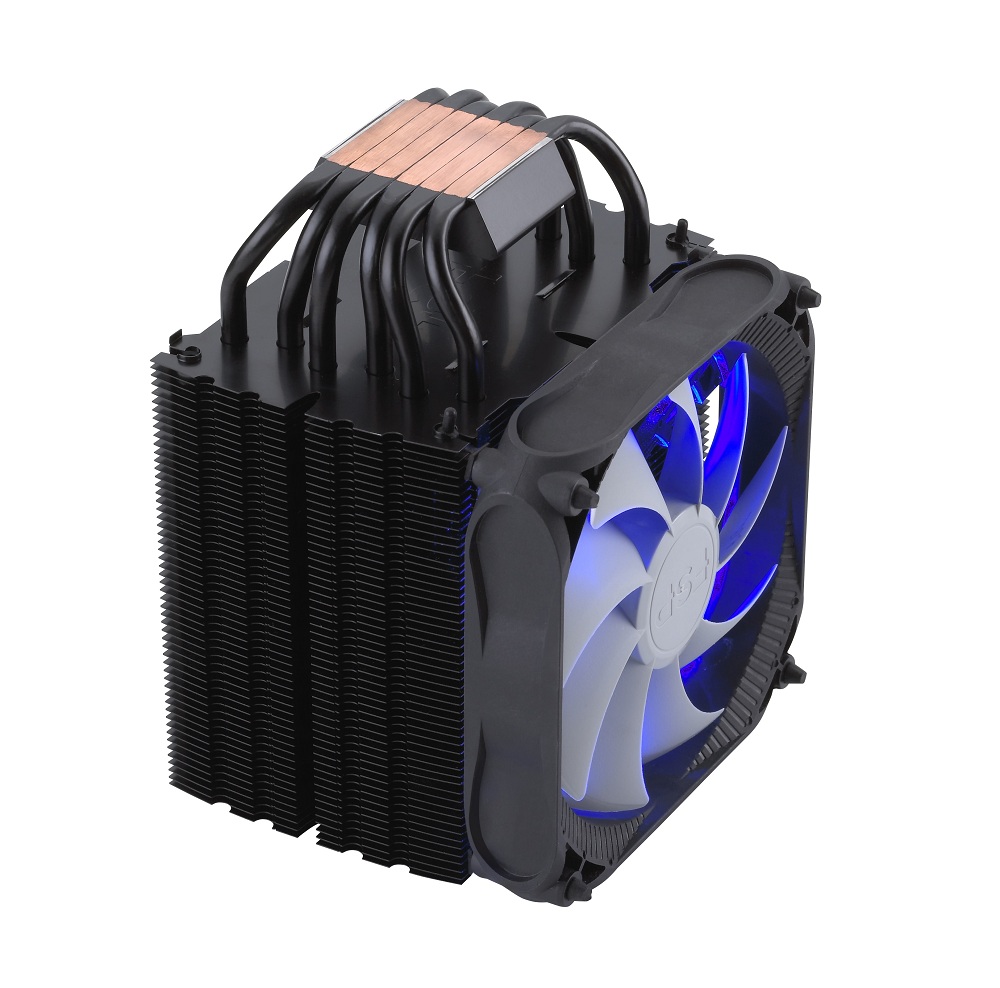 The quiet fan that cools and looks cool
Designed with a focus on noise reduction and user comfort, the Windale's optimized low-noise sleeve bearing PWM fan spins at a low speed, variable from 1600 RPM down to only 1000 RPM to provide almost silent operation, but its wide 120 mm size ensures the fan blades can move more than enough air to keep the hottest CPUs running safely. The heatsink's anti-vibration rubber mounting pins help isolate it from the motherboard and chassis to prevent noise and vibration.

Despite its unobtrusive and quiet performance, a Windale cooler can still be an eye-catching feature of any PC, thanks to its sleek, stylish design. The Windale 4 exposes the natural metallic sheen of its aluminum alloy fins and copper heat pipes, while the Windale 6 sports a cool black plated exterior coating and features an alluring blue LED effect.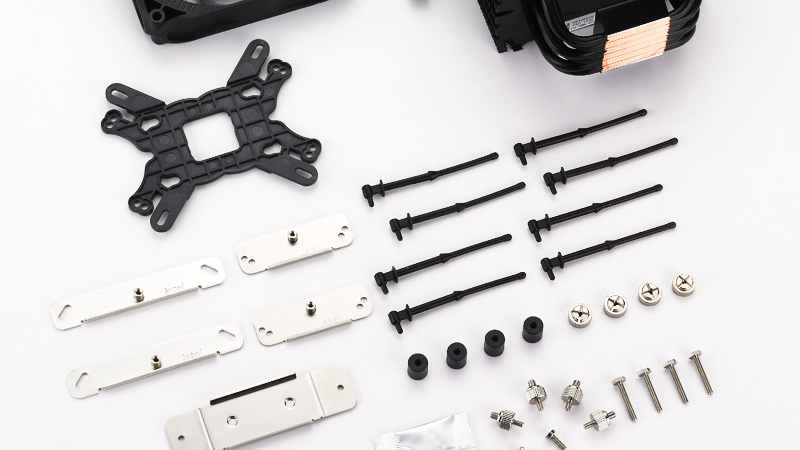 Supports a wide range of AMD and Intel CPUs
The FSP Windale series offers outstanding compatibility with a huge range of CPU sockets, including Intel's Socket LGA 775, 1150, 1155, 1156, 1366, and 2011, and AMD's socket FM1, FM2, FM2+, AM2, AM2+, AM3, AM3+, and AM4. CPUs supported by these sockets include the latest Intel Core i3, i5 and i7 CPUs, and AMD Ryzen – as well as many other Intel and AMD CPUs.

To find out more about FSP's new Windale Series of heat pipe CPU coolers with advanced thermal design and ultra low noise performance, please visit the FSP website at:

Windale 4 :

Here

/ Windale 6 :

Here