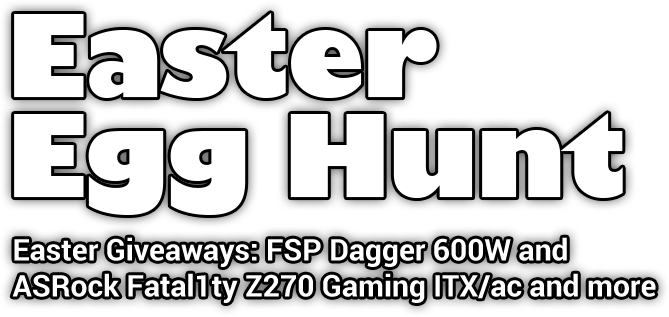 A new SFX PSU, Dagger Series,
and ASRock motherboards are up for grabs!
This Easter, come join us for the egg hunt and win some great prizes. In the Easter egg is a symbol of luck, new life, fertility in spring.
Details on ASrock Z270 Gaming ITX/ac here, ASrock Z270 Gaming K6 here, and ASrock H270 Performance here.
How to Win
Enter between 11 April to 20 April (GMT+8). Winners will be announced on April 27.
Step 1) On the Dagger series page, participants will be given 1 minute for Easter Egg Hunt.
Step 2) You will earn points by collecting the Easter eggs. Your final score will be posted at the end of the game.
Step 3) Please leave us your contact information (after the game) for prize notifications.
Remember : The higher the score, the higher chance to win.
Hope you are a winner - Good luck!
Kindly Hint To Get More Chances
You can increase your chance of winning by participating in the Easter Egg Hunt every day, when you fill in the same mail address.
Like our Facebook Fan Page you will get extra 3 points.
Share this and you will get extra 2 points.
Leave a comment on the same post on Facebook. Tag your friends will earn you extra 2 points.
Do note, all the above items will be confirmed to make sure you followed the requests, if you get selected as the winner.
Prize
FSP Power Supply :

Dagger Series 600W x2:
Vitaly Baty*** and Bruno Dvor***
HYPER K 600W x1:
Hyuk Joong K**
HYPER K 500W x 1:
문정*
FSP550-50KPN x 2:
조준* and 허남*



ASRock motherboard :

Fatal1ty Z270 Gaming ITX/ac x1:


gustave re***


Fatal1ty Z270 Gaming K6 x1:
IMOLA DEME***
Fatal1ty H270 Performance x1:
Jason Pin***



FSP Case :

CMT220 x1:
郭俊*



FSP Adapter :

NBH 65W x9:
pierre ozim***, guy loi***, Jean-Guy Cout***, evelin deme***, Busuioc Rox***,
Fabrizio D'And***, Steve Sur***, Jan Malac***, Rafał Sieńkow***



FSP Accessory :

FSP 5200mAh Power Bank x1:
Hieu D**
USB 5V chargers x 5:
Randy Snid** J*, Gerald He***, Mariel Live***, Mark Dw***, Autumn Kech***
Mouse pad x4:
徐惠*, Peter ch***, 王勇*, j**k h*
cable tie 27 sets (two in one set):
Chengyu Y***, Ming Ch***, cherry l**, Lee Chi Leung To***,
高細*, Jan Ye***, Nario Tatebaya***, Sze Pan F***, 望月*,
lobo l**, alain***, rence bre***, Noel A. P*** Jr., Punu Joshua J***, Reimart Borni***,
Kristel Ann Advincula P***, Lynyrd Ganda***, Engel Pamit***, Rhenley Mala***, Daryl Galle***,
aidrine monr***, Joaquin Carl Loy***, Ysane L**, Ian Paul Valeza Albe***,
Darwin Leyb**, Lawrence Div***
Congratulations everyone on the list for winning the Easter Egg Hunt, please check your mail and sent the information to us, thank!



Sole-sponsorship

Disclaimer
Please understand that you are providing your information to FSPLifestyle only and not to Facebook. Information provided is for prize notification purposes only. Your email address will be added to the FSPLifestyle Newsletter once it is submitted.
The Easter Egg Hunt starts from April 11, 2017 to April 20, 2017 11:59 pm GMT +8:00 - no entries will be taken after.
In case of winning, you will be asked to provide your full name, address, and phone number for prize shipping via Facebook message or E-mail. These details will only be made available to the companies participating in this contest. If you do not claim your prize within a week, it is considered forfeited. Please note, warranty is not applicable on the Easter Egg Hunt event prizes.
The Easter Egg Hunt giveaways is free to enter. Prizes and shipping of prizes are free. However, winners are responsible for all taxes and duties.