Show your PC with a FSP power supply and Win a protection kit
2016-09-08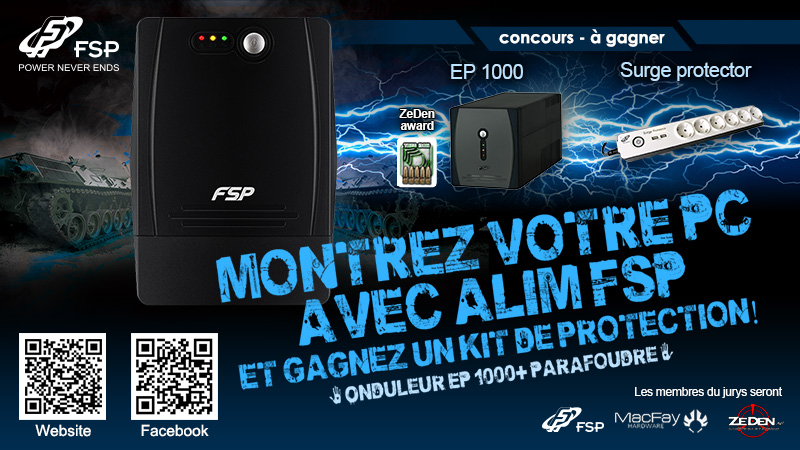 The power inverter manufacturer and FSP launches Facebook event for our users and fans, in collaboration with Fay Mac Hardware and ZeDen.net.
You might get the giveaway just follow these steps:


1. You must post on Facebook one or more photos of your PC where you have to see the FSP power supply at least one of them.
Regardless of the model, no matter how much is the power. Fortron brand power supplies are also accepted.
All other power brands (Corsair, Bequiet, Seasonic, Antec, or others) is prohibited and will not allow to enter the contest.

2. You have to tag this / these pictures: @FSP France, @ ZeDen.net, @Mac Fay Hardware.
If you want to optimize your chances, you can also:

●Give your full configuration
●"Like" FSP France / ZeDen.net Fay Mac Hardware with your friends to "Like".
Indeed these pages, here are the juries and their criteria:

●the first kit will be awarded by FSP, who will judge all actions of the player.
The more of actions of "Like", and you will have to win!
●The 2nd kit will be awarded by Macfay Hardware, who will judge the Looking of the machine.
So beautiful pictures needed!
●The 3rd kit will be awarded by ZeDen.
We will judge on the configuration, particular consideration will be given the homogeneity of the machine.