FSP Introduces 80PLUS Bronze Certified Hydro Power Supply Series
2016-03-17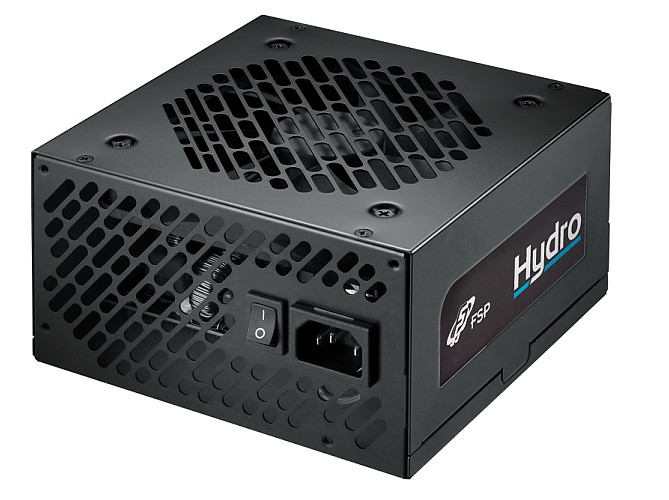 FSP, the performance power specialist, ispleased to announce a new line of gaming power supplies: the Hydro Series. Witha wealth of experience in manufacturing high-efficiency power supplies, theHydro series reflects FSP's high standards in reliability and performance ataffordable prices.
Powerful Single +12V Rail
Perfect for power-hungry GPUs, the single +12V rail providesstability and ease of use. Get the maximum potential of your power supply withthe ability to deliver clean currents under a heavy load.
Low Noise & Intelligent Fan Control
The 80Plus® Bronze certified Hydro series with 88% peakefficiency are equipped with a 120mm fan. The intelligent fan control adjustsfan speeds for optimal cooling performance. Even under maximum loads this powersupply series stays silent.

Flat Ribbon Cable Design
The sleek ribbon cables make it easy for gamers and PCenthusiasts to give their systems a tidy and organized look. The long (450mm)20+4 pin makes it easy to route all cables through the motherboard tray –minimizing clutter and maximizing airflow.
Wide Input Voltage Range
FSP ensures over 85% efficiency over a wide AC voltage rangefrom 160V to 280V. Even when mains voltage is unstable, you can depend onconsistent power from 80 PLUS Bronze Certified FSP Hydro.
Features
● 230V 80PLUS® Bronze certification with 88%peak efficiency
● Powerful single +12V rail design
● Advanced air-flow design for silent operationunder maximum loads
● Complies with newest ATX12V & EPS12Vstandards
● Wide input AC range from 160V to 280V
● Flat ribbon cable design
● SLI and Crossfire ready
● Full protections: corrections for overvoltage, current, power, under voltage, and short circuit protection
● Backed by a 5-yearwarranty
Availability
The 80Plus Bronze certified FSPHydro series is now available in Australia and New Zealand in 500W/600W/700Wversions.
For moreproduct information:
Hydro 500W http://www2.fsplifestyle.com/home/product.php?rKey=P163000592
Hydro 600W http://www2.fsplifestyle.com/home/product.php?rKey=P163000591
Hydro 700W http://www2.fsplifestyle.com/home/product.php?rKey=P163000590
For more product information:
FSP Corporate Website: www.fsp-group.com
FSP Retail Product Website: www.FSPLifestyle.com
FSP Blog:blog.fsp-group.com
Facebook:www.facebook.com/FSP.global
LinkedIn:https://www.linkedin.com/company/1842554