EMERGY 1000 series adopt high quality Lithium-Ion cells to provide 0.9kWh of energies for use in form of AC and DC power and use advanced Battery Management System (BMS) to enhance system performance, prolong life, and warrant safety.
EMERGY 1000 series have fast charging/ discharging rates, great conversion efficiencies (90%) and are safe to use, compact and easy to transport.
One hand Drag
It is your smart portable power. Users can move easily like luggage suitcase.

*AC socket(s) varies with country.
Conveniently use between indoor and outdoor environments
It can be used as a stand-alone portable power source, a battery back-up power system, an on-line UPS, or be integrated as a battery power subsystem in a modem home energy grid.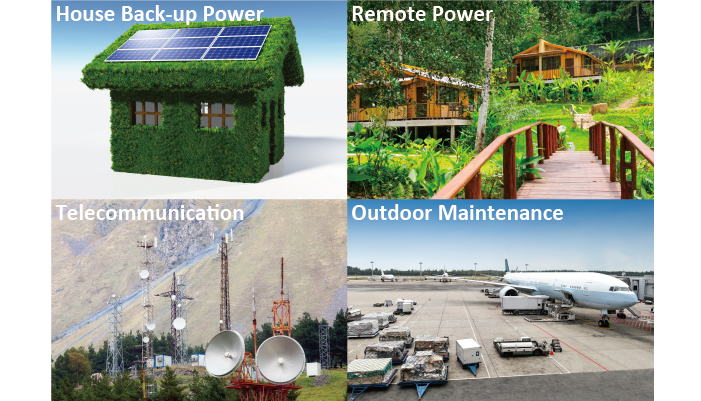 Reference Running Time for Select Loads
Electrical Equipment

Power Consumption

EMERGY 1000 Series

Lighting

Camping Lantern

5W

22.4 hours

LED Lighting

10W

19.6 hours

LED Searchlight

30W

13.1 hours

Fluorescent Lamp

36W

11.9 hours

Home

Appliance

Radio

10W

19.6 hours

Electric Fan

66W

8.2 hours

Refrigerator

130W

4.9 hours

42" LCD TV

200W

3.4 hours

Sound System

200W

3.4 hours

Electric Pot

800W

0.9 hours

Induction Cooker

1,200W

0.6 hours

3C

Smart Phone

2W

24.5 hours

Tablet

20W

15.7 hours

Note Book

40W

11.2 hours

Projector

200W

3.4 hours

Desktop PC & Monitor

310W

2.3 hours

Laser Printer

500W

1.5 hours